Media Release
Arts Access Advocates
MEDIA RELEASE: Disability Pride Week

Wellington celebrates Disability Pride Week
8 November 2016
Wellington will celebrate Disability Pride Week, an event initiated and led by the disabled community and opening at Te Papa on Sunday 27 November. The week-long celebration will include a tape art workshop and display, films, storytelling and art. It will end on Saturday 3 December, the UN's annual World Disability Day celebrated around the world.
Nick Ruane, Disability Pride Week's co-convenor with Rachel Noble, says it's time for disabled people to show their diversity, express their creativity and tell their stories.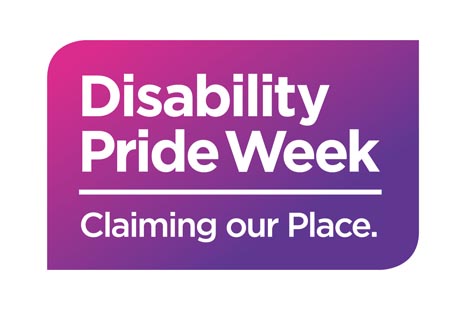 Disabled people make up 25 per cent (1.1 million) of the New Zealand population. "We're New Zealand's largest minority group and it's time to claim our place in society – one where we are included, visible and valued," Nick says.
"The week is about disabled people and the broader public coming together and celebrating our common humanity, and the identity, culture and pride of disabled people. We've had a lot of positive feedback and support from around the country and next year, I'm confident it will become a national event."
Mayor Justin Lester says Wellington and Te Papa is the ideal launching pad for Disability Pride Week.
"We are pleased to support Disability Pride Week where celebrating disabled people through creativity and access to the arts are central themes," he says.
Rachel Noble urges Wellingtonians to embrace diversity and participate in the week. "For disabled people, it's a chance to express their experiences of what it means to be a citizen of Wellington."
The following are key events to note in your diaries now:
Launch at Te Papa: a ceremony at Te Papa at 2pm Sunday 27 November will mark the start of Disability Pride Week
Tape art at Asteron House: a group of disabled artists will work with Tape Art New Zealand artists and create a mural, using blue tape on the windows of Asteron House, opposite Wellington Railway Station. The mural will be created on Thursday 1 December and will remain on display for several days.
Telling our stories: a storytelling workshop on Friday 18 November where people from the disability community will create and shape short stories that will be shared throughout Disability Pride Week.
Wellington through our lens: join disabled people as they discuss what it means to be citizens of Wellington from 10.30am to noon on Saturday 3 December. As they talk, the League of Illustrators will re-create their perspectives of Wellington on a large canvas, which will then be displayed to the public.
Grand finale: join in the celebrations to end the week from 7pm Saturday 3 December at City Gallery Wellington.
Disability Pride is an international movement, honouring each person's uniqueness and seeing it as a natural and beautiful part of human diversity. Parades and weeks have been held in parts of the United States since the first Disability Pride Day in Boston in 1990.
The Disability Pride Week in Wellington is supported with funding from Wellington City Council and the IHC Foundation.
The week is also supported by Arts Access Aotearoa, Asteron Life, Bronwyn Hayward, CCS Disability Action, City Gallery Wellington, Community Comms Collective, ennoble, Human Rights Commission, IHC, Inclusive NZ, MSO Design, Tape Art NZ, UNICEF and Workbridge.