Blog
Arts Access Advocates
Thane Pullan is a Christchurch software developer, author and stand-up comedian. He has cerebral palsy and uses a wheelchair. He provides some advice for disabled artists seeking media coverage – and advice for journalists interviewing disabled artists.
1. What are your three key tips to disabled artists seeking media coverage?
Be outrageous if you can. Being outrageous grabs people attention. It doesn't have to be with words. I had a Mohawk at one stage. I am naturally provocative, but being intentionally provocative can be a good way to say "Here I am, deal with it."
Maintain contacts. If you want to play the publicity game you need to maintain contacts, particularly with journalists, and keep them informed. You never know when you will need them.
Create content for other websites. Offer to write blogs for other sites and plug your work. The blogs can be about your work, or a related topic. For example, if I wrote about museums I could say that the experience could be improved by my building navigation software. The key to this is targeting and not making the blog post sound like an infomercial: offering value is essential. This is a tactic I have used, and will continue to use.
2. How do you get the media to focus on your art rather than your disability?
I mentioned that I had a red Mohawk before. My parents assumed that I was making people look at it instead of the wheelchair but in reality, I just liked it. However, you could do something similar if you want to distract people from your disability.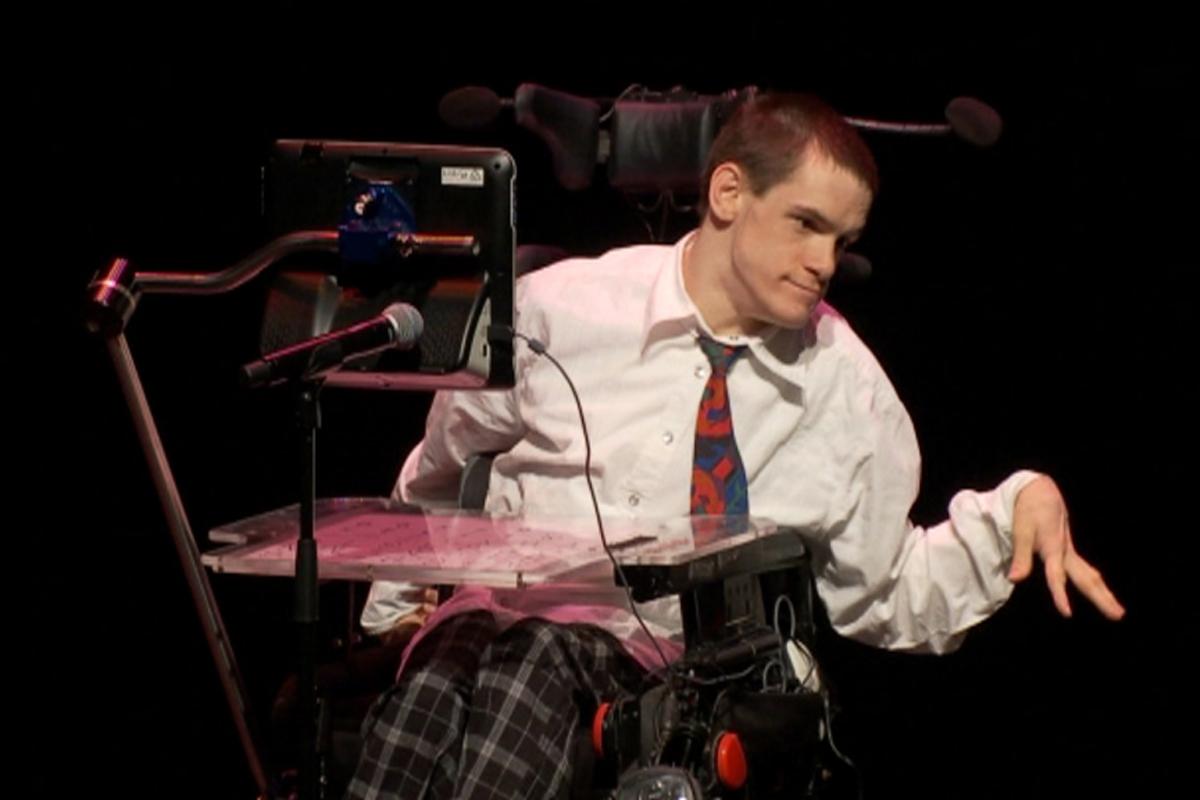 Or you could go down the Neil deGrease Tyson route and refuse to discuss being a minority: I personally don't do this but each to their own.
The one critical thing I would suggest is to ensure that your art is really good if standing (or sitting/laying) on your merit is really important to you.
You may want to be picky with interviews. If you get the impression that someone is only covering you for your disability, you have the right to decline the interview or to speak up. I can remember I raised such an issue to a journalist and never heard back from them.
Ultimately, you need to decide what's more important: fame or art. Your disability could possibly serve as an asset if it's the first option. Personally, I'm more passionate about spreading ideas and creating comedy/music. I really couldn't care less about fame. I even refused a guest blog on a well-known site a few months ago because I didn't think it was a good fit. Additionally, you may want to bring up the points listed below when dealing with journalists.
3. What are three key things the media need to be aware of when interviewing disabled artists?
Normality! We (actually, I'm speaking for myself) like to be covered as normal people. I don't like to be painted as inspirational or tragic. So many articles about people with disabilities fall into these two camps. Just keep the tone of the article the same as you would for a non-disabled person.
Ensure your coverage is substantive. Covering somebody for doing the same thing as everybody else isn't a good way to approach disability. However, such articles could serve to normalise disability and I guess you can make an exception if that is your specific goal. Again, don't cover us as inspirations: we're just regular folks!
Nobody agrees on it so you are probably best to ask the interviewee about what language they prefer if it doesn't take away from the substance of the article. I have authored a language guide here [http://www.disabilities.co.nz/language-guide.php] that you can use initially. I was very annoyed when an interviewer introduced me as suffering from a disability.
Thane Pullan is an Arts Access Advocate, and an accessibility software developer, author and stand-up comedian. He is working on a range of accessibility and arts software. You can buy his book, The Teachings of a Grumpy Cripple, online.