News
Arts Access Advocates
Video speaks out about access for everyone
11 April 2016
"The good thing about being focused on access and accessibility is that you create a better experience for everybody," says Philip Patston, Managing Director of Diversity New Zealand.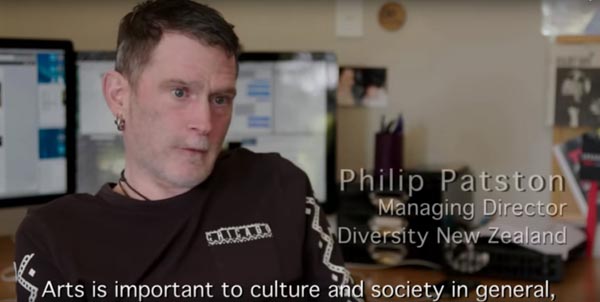 Philip is one of several disabled people speaking on a video about the importance of providing access to the arts for everyone in society. Others include Deaf filmmaker Jared Flitcroft, PhD candidate and wheelchair user Leechin Heng, and disability consultant Paul Brown, who is blind.
"As people with access needs, we're not out there in audiences or on the stage, or putting our work on the walls," Philip says. "If we're not there, people will forget about us. If there's no perceived reason to do anything differently, people won't do it differently.
"I find when I go places regularly, people get to know me. They know I need a straw in my wine. As I become more known, the way I get treated becomes better and better."

The 12-minute video is part of a project called Arts Access Advocates: A National Partnership, which also includes a website and a symposium. The project was funded through the Ministry of Social Development's Think Differently campaign.
Richard Benge, Executive Director, Arts Access Aotearoa, says the Think Differently funding enabled the organisation to work with Deaf and disabled people, developing some valuable skills and tools to advocate for increased access to the arts.
The video was made by Lala Rolls of Island Productions Aotearoa. "It was an absolute pleasure to interview such articulate and talented people. I would love to make a full-length documentary because the people I talked to had so much to share and I felt they could teach us a lot about ourselves and being comfortable in our own skins."
The video also covers audio description for blind and partially sighted people. Aucklander Paul Brown talks about the value of audio description. "I learn something new every time I go to an audio described performance ... And I'm a huge fan of touch tours."
The video moves to Christchurch and takes the viewer into the Isaac Theatre Royal, which was rebuilt after the Christchurch earthquakes. Here, Leechin Heng and Jared Flitcroft talk about the view from the auditorium and go on to the stage.
Jared talks about the importance of New Zealand Sign Language interpretation to interpret the arts. "Commmunication is very important," he says. "I love having access to art."
And Neil Cox, Chief Executive, Isaac Theatre Royal, says no one should be excluded from the theatre. "The theatre is a space for the community and always has been since it was built in 1908."
Arts Access Aotearoa would like to thank everyone involving in making this video.
Access For All: This video about the importance of access to the arts is audio described and captioned.