News
Arts Access Advocates
This video captures a multi-day tape art residency in Christchurch as part of the All Right? health campaign. Called Street Talk, it included artists from SkillWise.
Tape art to tell a story of pride
25 November 2016
By Daniela Pavez
Team work, fun and new skills is what the tape art workshop will bring to Disability Pride Week, to be held from 27 November to 3 December in Wellington.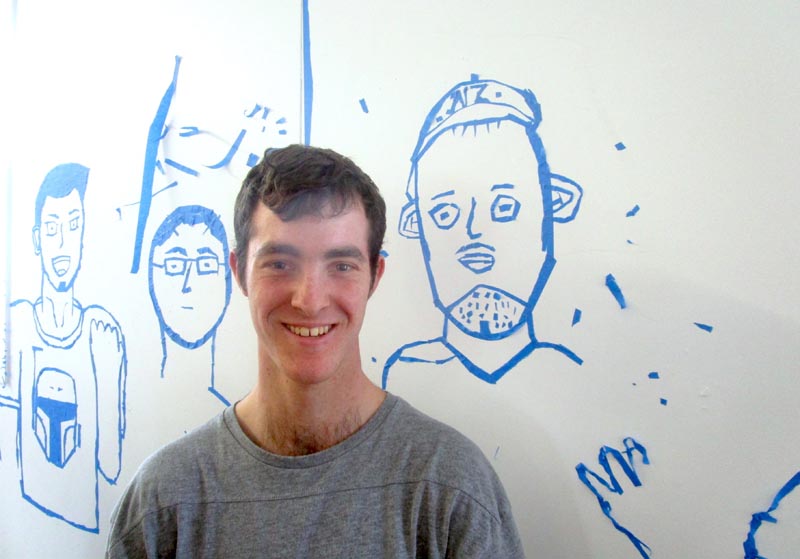 New Zealand tape artists Erica Duthie and Struan Ashby will lead a group of disabled participants to create a mural, using nothing but blue masking tape, scissors, cellophane and team work.
Struan and Erica are looking for people to join the team over three days.
"It is a great opportunity," Struan says. "We really want to provide the space and the tools for the disabled community to express themselves and share stories that are not often seen by the public."
Struan and Erica, who are based in Hutt City, have built an international career as ephemeral artists, temporarily transforming large architectural spaces with short-lived, whimsical stories.
They have worked on many art museums and cultural institutions internationally. In the early 1990s as art students, they created their first murals with tape on the Christchurch Cathedral. They spent their early careers touring the United States, developing their signature style of blue-toned, tape-drawn figures with the lifecycle of a day.
Tape art in hospitals
Erica and Struan often work in hospitals with children and adults with intellectual and physical disabilities, and have also worked with the Deaf community.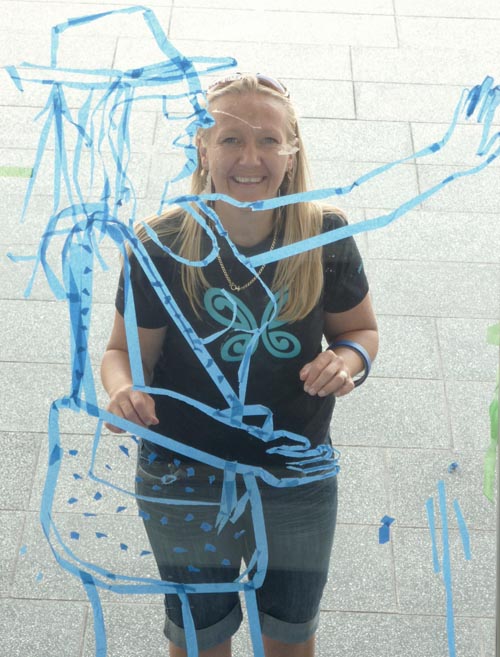 "We've found ourselves drawn to work with people with disabilities many times during our career," Erica says. "It is so refreshing because they tend to be more open, positive and hopeful."
The final mural will be created at Ngā Taonga Sound & Vision at the corner of 84 Taranaki Street and Ghuznee Street on Thursday 1 December and will remain on display for several days.
"The theme of the mural will reflect the spirit of the Disability Pride Week and will capture a story about this group of artists and their take on of what disability means to them," Erica says.
No previous experience is needed. "If you enjoy drawing, and have access to pick up a pencil and use scissors, we can manage the rest," Struan says. "The most important thing is that you are willing to share a story and willing to work with others and communicate."
After many years on the road, Erica and Struan are happy to have many projects for the future months in New Zealand.
One of them it will be the Porirua Kite Project where the couple will be running workshops with a wide range of community groups to design and create multi-cultural art kites. These will be combined with portraits of locals and installed in various places in Porirua's CBD.
Visit the Disability Pride Week webpage for more information about how to participate in the tape art workshop and mural.