Pati Umaga: sounds of empowerment
1. My story
My name is Pati Umaga. I'm a musician, bass guitarist, composer, advocate for people with disabilities, trustee of the Pacific Music Awards and president of Disabled Persons Assembly NZ.
I'm a first-generation, New Zealand-born Samoan from Wainuiomata in the Wellington region. I have two brothers and one sister.
Music runs in our family. My grandfather, Pa'u Umaga, was a well-known musician in Samoa and involved with the Mau movement. He wrote a song about it called Pese o Le Mau, which is still popular today.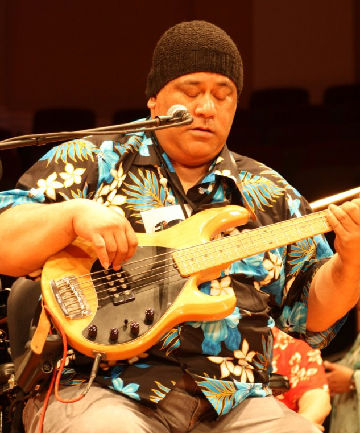 We all got our musical ability from my grandfather. Dad was very good on the saxophone and trumpet and his dream was to see us in a family band.
That's why my parents led me and my brothers into music from a very young age. I started with piano, then guitar, until I settled on the bass guitar as my instrument.
We could have played rugby at a representative level at the end of college but our father wouldn't let us. He asked us to focus on our family band and so Kabasa was born in the late 1970s.
I now understand there was a bigger purpose behind his dream. Many musicians have been part of Kabasa through the years, and the band is also a way to promote music from the Pacific Islands and by Māori, especially among the young generations.
For me, music is more than an artform. It's definitely held a different meaning for me after an accident in the shower in 2005 left me paralysed. For two years after the accident, I was afraid to go out of the house in my wheelchair until I got some counselling.
But after I got through that, I haven't looked back.
Music is still a way to connect with myself and others. It's also a means to maintain the legacy of my dad and granddad, connecting with their dreams and visions.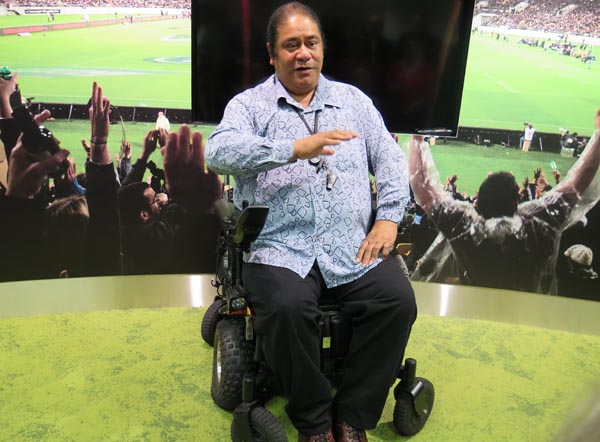 But music is also a way to empower the disabled community. It's a way to make us feel connected, included, capable and proud of ourselves.
Music can break down stereotypes, especially within the Pacific Island community where we can be viewed as "broken" or "cursed" if we're disabled. People sometimes say we're disabled because our family has done something wrong in the past. I'd like to see us break away from stigma and adopt a positive view of what disabled people are capable of.
Over the years, I've become very active in advocating for the rights and wellbeing of the disabled community. For example, I'm involved in developing policy for the United Nation Convention on the Rights of Persons with Disabilities. New Zealand is one of 160 countries that are signatories to the Convention.
I enjoy working on strategy and policy. I'm on several boards and advisory groups, including the Disabled Persons Assembly, where I'm the national president. I advise on the implementation of the New Zealand Disability Strategy through the DPO Coalition.
2. What I've achieved with my art
As a musician, I co-founded the contemporary music programme at Whitireia Polytechnic in Porirua, which is now a four-year degree.
I had a number one hit in 1998 with one of my bands, The Holidaymakers. The song was called Sweet Lovers and remained at number one for several weeks.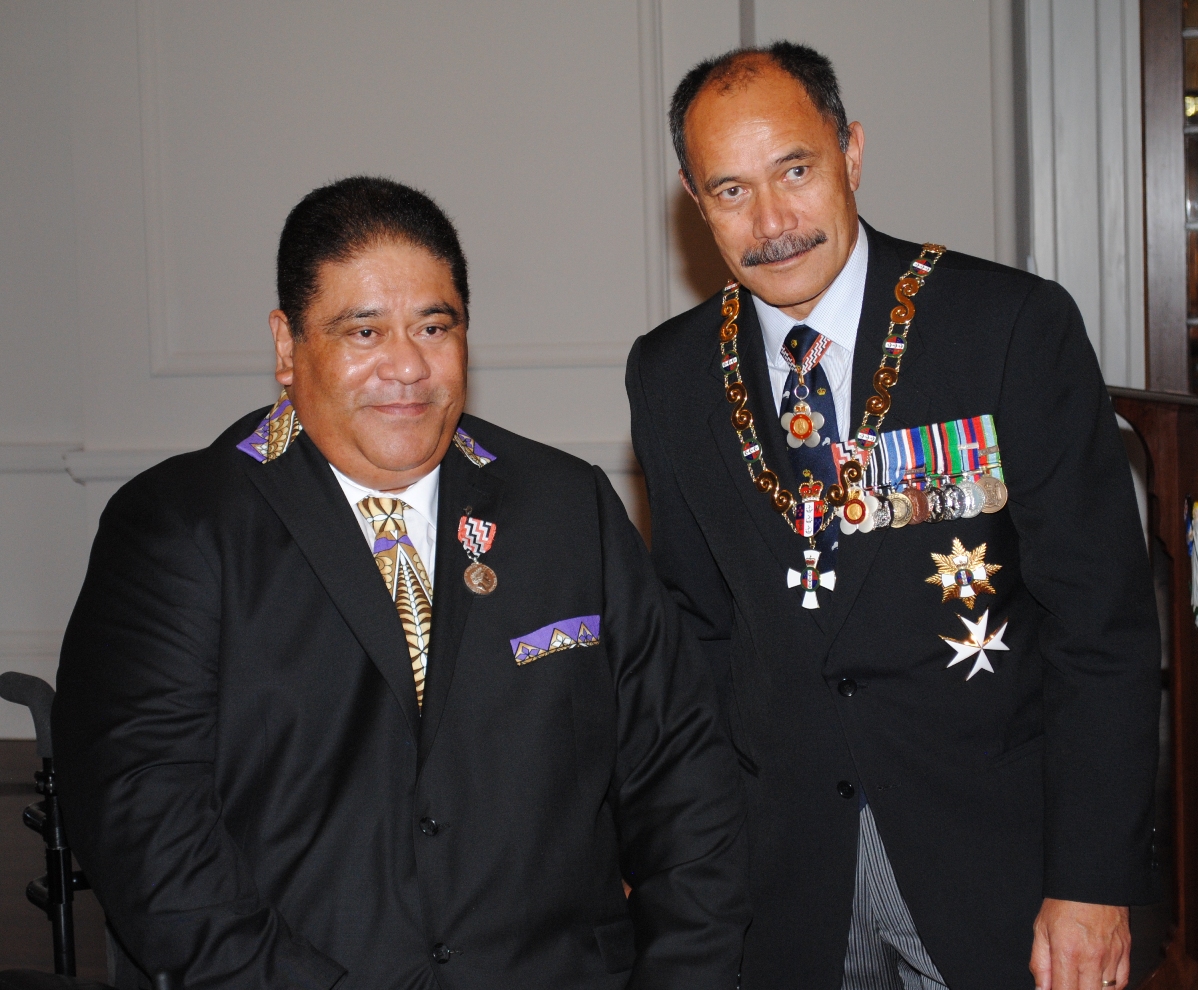 In 2009, I organised a Tsunami Benefit Concert, and I also wrote The Power of You for the New Zealand Paralympic athletes in Rio de Janiero 2016.
One of my latest projects is my song Siva (Samoan for dance), recorded under my stage name Joom. The music video features disabled and non-disabled people dancing with each other, fully embracing inclusion and diversity. I teamed up with Auckland's PHAB Pasifika's inclusive dance troupe Pasifika PHusion to make the video.
In 2011, I received the Queen's Service Medal for my work in the Pacific Island community. And in 2015, I was awarded the Arts Access Artistic Achievement Award.
In May 2018, I had the privilege to perform my song Siva as the opening act for the Vodafone Pacific Music Awards 2018. Onstage performing with me was Pasefika Phusion 2.0. Just before they went onstage there were nerves, self-doubt, apprehension and butterflies but their performance was powerful, confident and energetic. They came off the stage as giants.
3. What I want to achieve with my art
I want to be remembered for being a good advocate for our disabled community, not only because of my work on issues that affect us but also through the arts.
UFIT (Universal Fitness Innovation Transformation) is encouraging the health sector to make facilities more inclusive for people with disabilities. It's a global campaign and they've asked me to be their global music ambassador.
Music has showed me a different way to overcome obstacles and find a balance in life in terms of work and art. At the moment, I'm discussing writing and recording a song to be performed with members of the Pacific disabled community. The idea is to highlight issues around family violence and disability. That will be coming out in early 2018.
I would like to set up a label to promote, produce and record the music of disabled musicians. I think the biggest issue is that art by disabled people is underrated and we need to work hard to change that.
4. Who I'm interested in working with on art projects
I'd love to collaborate with the band Te Vaka, which was founded in New Zealand in 1995 by singer and songwriter Opetaia Foa'i. They're made up of eleven musicians and dancers from Tokelau, Tuvalu, Samoa, Cook Islands and New Zealand, and have toured the world.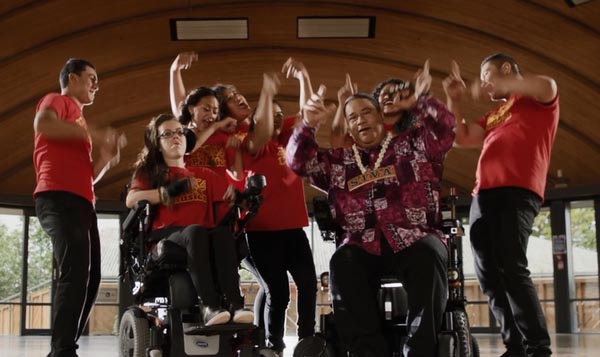 I'm a trustee of the Pacific Music Awards and I met Opetaia at the 2017 awards event. We talked and we connected. I sent him my music video, Siva, and he really liked it.
I want to find more musicians from the disabled community to collaborate with us and would love to do some more work with PHAB.
Music is always a good foundation for other artforms so I am always keen to work with other artists. Poetry, theatre, dance, visual arts … the possibilities are endless and I am open to explore collaborative work.
One day, I'd love to work with Stevie Wonder. He's a UN Messenger of Peace and goodwill ambassador. Imagine working with him! It would be great.
5. Useful links
6. Contact details
Pati Umaga
T: 027 733 6444 E: pati.umaga@yahoo.co.nz
Story updated: May 20187