Equal Voices Arts: working across languages and cultures
1. About us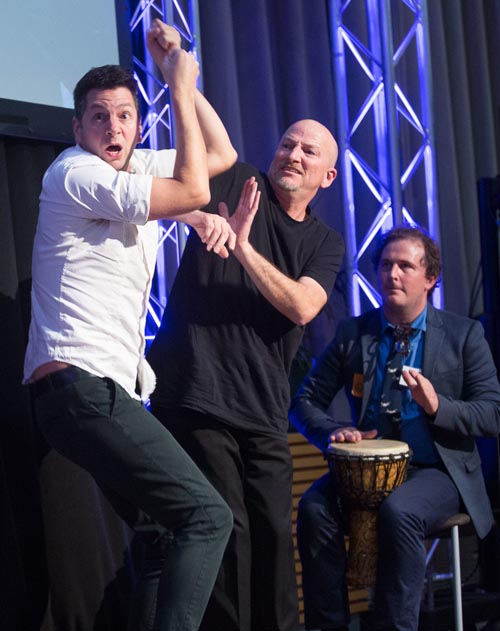 We make theatre. We make film. We share stories.
We like to make sure everyone's voices are heard and seen.
We explore the creative possibilities in making theatre for diverse audiences.
Equal Voices Arts was formed in 2005 in the UK by Dr Laura Haughey (theatre director, senior lecturer in theatre studies at the University of Waikato). Our associate artists include Shaun Fahey, Mihailo Ladevac and Andy Duggan.
We've been working here in New Zealand since 2014. Our work in New Zealand has been focussed on exploring the creative possibilities of working across language and cultures, and the opportunities particularly offered by creating work by, and for, Deaf and hearing communities.
We are passionate about inclusive approaches to making theatre, providing accessible training opportunities and raising the profile of New Zealand Sign Language on stage.
Our first performance project in New Zealand was At The End Of My Hands, which started with community workshops in Sign Theatre for the Deaf community in Hamilton.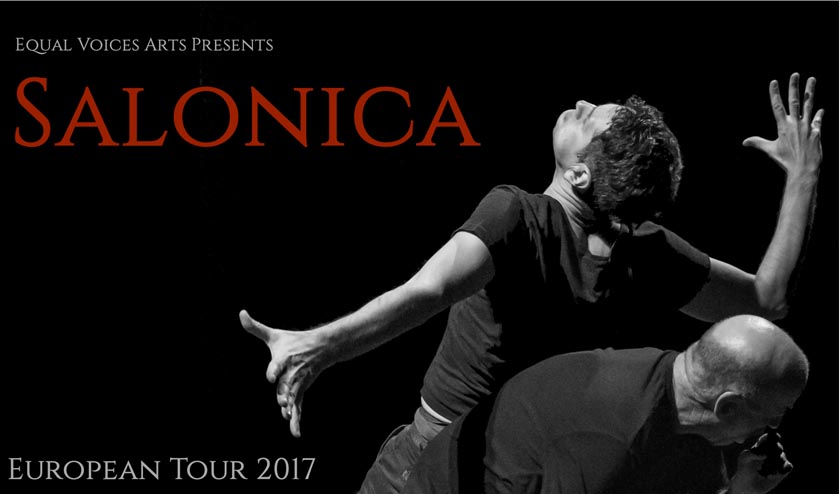 From here, four Deaf actors were cast alongside two hearing actors in a full-scale original production, which toured New Zealand in 2016. This production was accessible for Deaf and hearing audiences.
Our next production, Salonica, was commissioned to go on a European tour in 2017, and will tour New Zealand in 2017 and 2018. Deaf actor Shaun Fahey has been working with us on both performance projects, as well as delivering workshops in both New Zealand and in Europe. Shaun has also been working with Sign Theatre specialist, Denise Armstrong, in the UK to continue his training.
The New Zealand premiere of Salonica is in Christchurch at The Piano (156 Armagh St) on Friday and Saturday 1 and 2 December. It's on in Wellington at Circa Theatre from 14 to 16 February. Dates for the Auckland and Hamilton shows have yet to be confirmed. Follow us on Equal Voices Arts Facebook for updates and how to purchase tickets, or visit our website
2. What we've achieved
With the support of the University of Waikato and the NZSL Fund, Equal Voices Arts has achieved a great deal.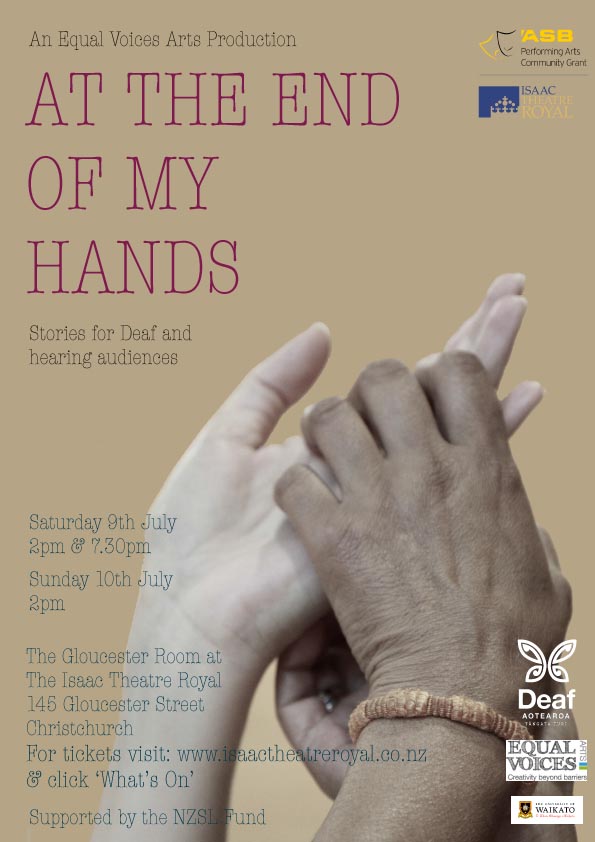 A highlight has been touring New Zealand with At The End Of My Hands, a bi-lingual (New Zealand Sign Language and English) theatre performance that explores stories about Deaf culture, communication and the unique history of Sign Language in New Zealand. The piece placed both English and New Zealand Sign Language on stage equally, but not identically. It was performed with no formal interpretation between languages, and the result was a rich live experience accessible to both Deaf and hearing audiences.
At The End Of My Hands aimed to raise awareness and the profile of NZSL, Deaf Culture and history, as well as sharing familiar and important stories with both Deaf and hearing audiences. We were very proud to have been able to perform it across stages in Auckland, Hamilton, Wellington and Christchurch, offering accessible theatre to more than 1500 audience members.
Other achievements include:
delivering numerous accessible co-Deaf and hearing-led "working through the body" workshops across New Zealand. These theatre workshops were delivered in both spoken English and NZSL. These workshops were taken further afield during 2017 and delivered to Deaf and hearing participants in England and Europe.
completing a European tour of the newly devised multilingual performance Salonica, performing in the UK, Serbia and Montenegro.
breaking ground in Europe in 2017 when actor Shaun Fahey became the first Deaf actor to appear on mainstream stages in Serbia (National Theatre Belgrade) and Montenegro. This was also the first time NZSL had featured on these stages.
collaborating with international Deaf theatre artists throughout 2017 to make Salonica.
winning the Arts Access CQ Hotels Wellington Community Partnership Award 2016 with our partners Deaf Aotearoa, University of Waikato and Edge Hill University, UK.
receiving a standing ovation at the New Zealand Sign Language Awards 2016 when we performed scenes from At The End Of My Hands.
being nominated for the NZSL Accessible Service Award 2016 at the New Zealand Sign Language Awards.
3. What we want to achieve
Most of all, we want the company to be more Deaf-Led, with Deaf actors/practitioners taking the lead with workshops and performance, promotion and organisation.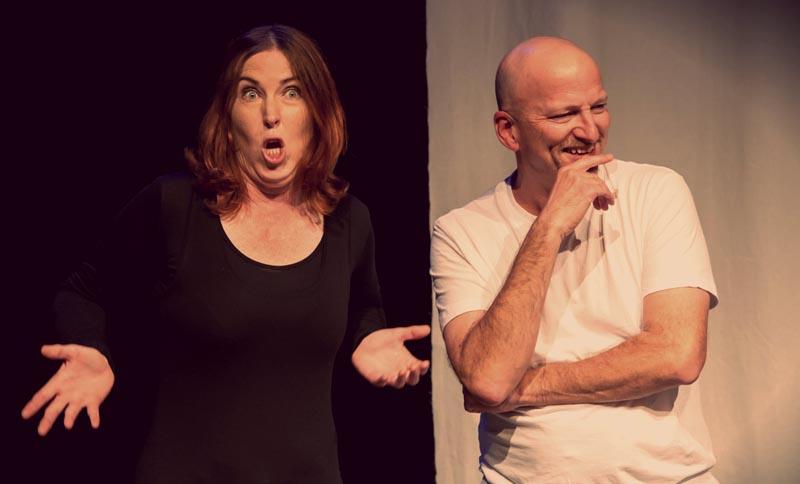 We also want to:
collaborate further with international Deaf theatre practitioners
continue to create more accessible workshops and performances around New Zealand and internationally
expand our inclusive practice to include more diverse performers and audiences.
To be able to achieve these goals, we need to continue to secure funding from various sources to ensure strong and sustainable future projects and collaborations.
4. Who we want to work with
We would love to hear from anyone who is interested in working with us: participants, collaborators, partners. Anyone who is interested in exploring inclusive practice. Please get in touch!
5. Useful links
6. Contact
Dr Laura Haughey
Senior Lecturer at University of Waikato
Artistic Director at Equal Voices Arts
E : laura.haughey@waikato.ac.nz
Postal address
University of Waikato, Te Whare Wananga O Waikato
Theatre Studies Programme, School of Arts
Gate 1 Knighton Road
Private Bag 3105
Hamilton 3240, New Zealand
Story updated: October 2017