Duncan Armstrong: a creative force
1. My story
I am a professional dancer, actor and musician from Wellington. In March 2018 I did a solo show at the Auckland Fringe Festival. It was my first solo show and I won a Best Performance award. I was really excited to get the award because it means I can develop it some more and perform it in other places.
As a person with Down syndrome, I can help make people with disabilities a more visible and everyday part of society. Maybe I can also inspire others to create and tell their own stories.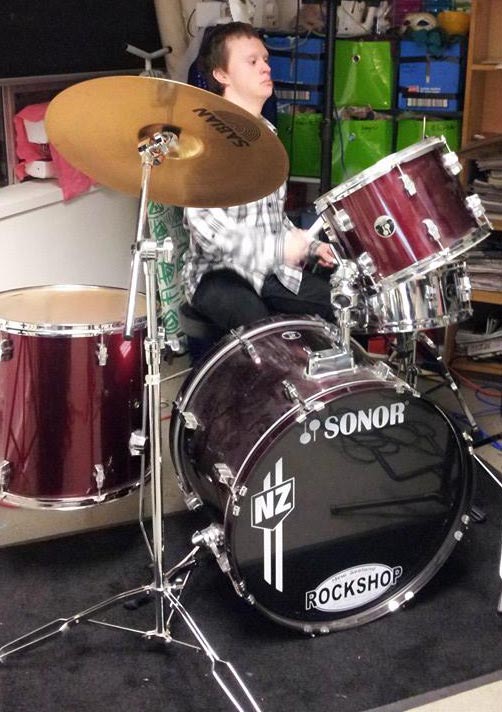 Growing up, I was quite sporty and then in a concert at the end of my primary school, I played the drums in a band with my best friends.
I went to Onslow College in Wellington from 2003 to 2007. I did drama, music, choir and kapa haka, and was in lots of shows, including musical theatre productions.
After school, I studied music at Whitireia Polytechnic. I have been playing the drums since I was 10-years-old, and perform in a rock band called Mr Handsome. My dad is also in the band. I write songs about my life. I like to share my feelings through song lyrics because someone else might connect to that same feeling.
I also worked with an integrated theatre company in Wellington called Ginger Crunch, plus I played basketball for Special Olympics Wellington.
I've been a professional dancer with Touch Compass Dance Company since 2015 although I've worked with Touch Compass since the late 1990s.
Getting training has been really hard for me but I've taken a lot of workshops to learn and develop. I've worked a lot with choreographer and dancer Philip Channells in Sydney, where I made new friends and learned new techniques. His approach to dance is different to Touch Compass.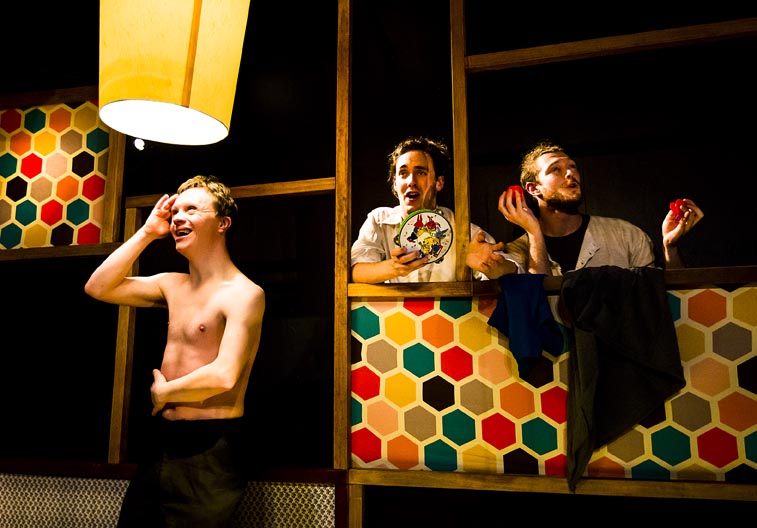 I've also acted on stage and on TV. I was in the first season of the TV show Nothing Trivial in 2011. That was a lot of fun and I learned a lot.
In 2014, I performed in Wake Up Tomorrow, which was produced by Everybody Cool Lives Here and performed at Toi Whakaari. Then in 2016, we did No Post On Sunday at Circa Theatre. I love working with Nic and Rose, who started Everybody Cool. They support us to achieve what we want to. I also like sharing my skills with others in the company.
I've acted in several shows with Everybody Cool and then I wrote my own show with Isobel MacKinnon, who also directed it. The solo show is called Force Field and it's about a guy called Chris, who is looking for love.
2. What I've achieved with my art
I'm proud of what I've achieved so far. I've performed in New Zealand and in Australia. It was great to get a grant from Creative New Zealand in 2017 to develop Force Field and I think it's the first time an individual grant had been awarded to someone with a learning disability.
Winning a Best Performance award at the Auckland Fringe 2018 made me feel great and made all the hard work worthwhile.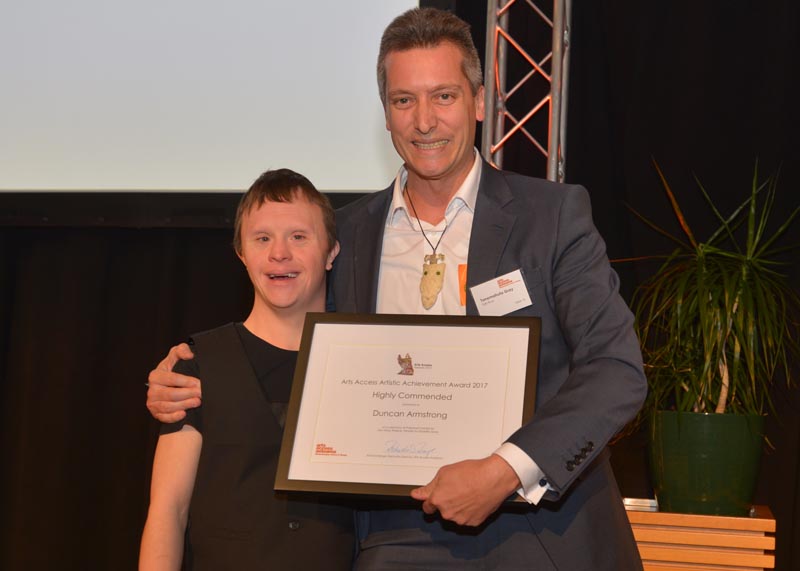 With Touch Compass, I made a short film called Drumming Is Like Thunder. In 2016, I won an award for Most Original Film in the Sit Down, Shut Up and Watch Festival in Australia. I was invited as a guest to the Sydney Film Festival 2017. It was an amazing experience. The film was screened across the USA as part of the Sprout Festival.
In 2010, I won the Big 'A' Winton and Margaret Bear Young Artist Award, presented to me by Arts Access Aotearoa.
And then in 2017, I was Highly Commended in the Arts Access Artistic Achievement Award. Dancer Rodney Bell won the award. We really get each other. I've worked with Rodney at Touch Compass and I was stoked to perform with him at the awards event in Parliament.
Candoco Dance Company invited me to take part in their dance residency so in August 2018, I went to London and spent a week doing the residency. It was great and I was the only dancer from the southern hemisphere. I also did a one-day workshop with Indepen-dance in Glasgow.
Another exciting recent project was to be cast in April Phillips's short film "The Last Man on Earth", for Godiva Productions. The film is touring Film Festivals in the US- and we've won some awards, including a gold for me as Best supporting Actor, at Independent Shorts Awards, 2019, Los Angeles.
3. What I want to achieve with my art
I want to make the arts more accessible and relevant to both performers and audiences with and without disabilities. I would like to see society be more inclusive and also more fun. We can take ourselves too seriously sometimes.
I would also like to make training in the performing arts more accessible to people who have different abilities. I would love to do more training in stage and screen acting because there is so much to learn.
I am keen to tour my work, and to work and perform anywhere in the world
In terms of future projects, I'm hoping to perform Force Field at more festivals around New Zealand and overseas. We hope to take it to the Edinburgh Fringe. Beyond that, I would love to do more screen acting.
4. Who I'm interested in working with on art projects
I love working with Touch Compass, and Rose, Nic and Everybody Cool Lives Here.
Playing the drums makes me feel good and I'm always on the lookout for other new musicians to jam with.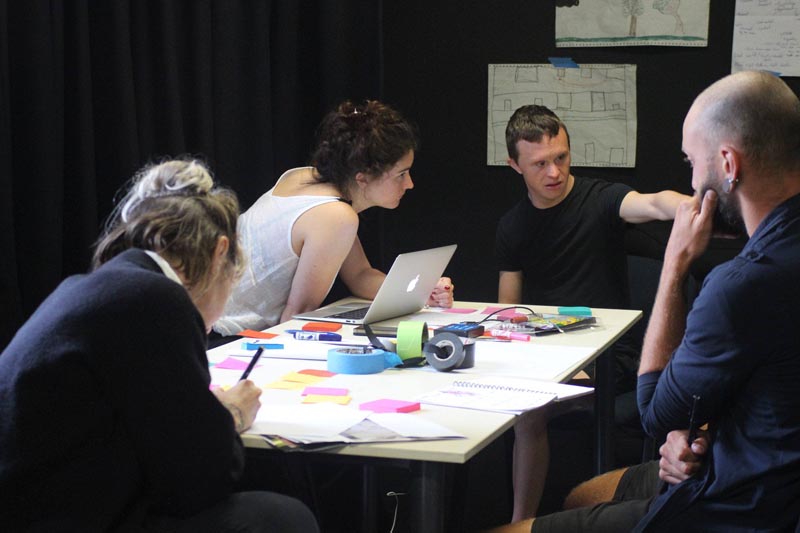 I love collaborating and so there are lots of people I'd like to work with. I would love to work more with Isobel Mackinnon, who directed Force Field. In film, I loved working with April Phillips and her crew on The Last Man on Earth, and I really hope to do more work with her. I would like to collaborate again with Alyx Duncan, who directed Drumming is Like Thunder. I liked working with Nothing Trivial director Murray Keane and would like to work with him again. I'd also love to work with new young directors and theatre students. My friend, Chris O'Reilly, and I are developing a project together.
As well as continuing to work with Touch Compass, I'd like the chance to work with other choreographers and dancers. I loved working with choreographers Kristian Larsen and Marc Brew, and also hope to work again with Philip Channells. I loved working with Sarah Foster Sproull, and I'd love to make work with Malia Johnston and Rodney Bell.
5. Useful links
6. Contact details
Duncan Armstrong
T: +64 27 475 7024
E: duncanarmstrong1989@gmail.com
Story updated: November 2019