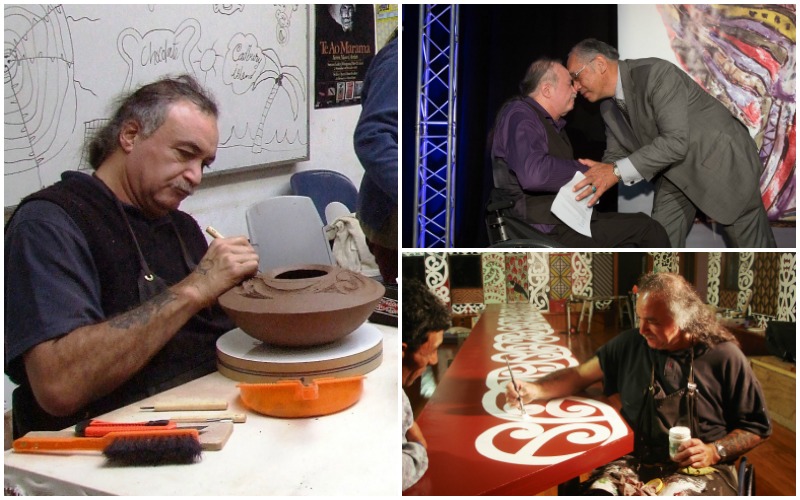 David Cameron: stories shaped with clay
1. My story
My name is David Cameron. I am based at my home at Ngatapa, 18 kilometres west of Gisborne. Of Māori descent and Scottish heritage, I am of Kati Mamoe, Ngai Tahu, mea Te Whānau a Kai, Te Aitanga-a-Mahaki and Ngati Porou. I was born in Gisborne in 1958.
I never thought I would have an artistic career even though I always considered myself artistic. When I was young, art wasn't considered a career option. I left secondary school and transitioned into paid work.
My life changed in 1977 when I became paraplegic and a wheelchair user. I was 19 years of age.
During my rehabilitation process, the artistic side I had left behind at school helped fill the days. During occupational therapy, I took up leather carving. It became a hobby and provided an outlet for my creativity.
Carving leather has been a satisfying art for me, both artistically and functionally. I have enjoyed this medium and still do.
In 1997, I became involved with Pakowhai Marae at Waituhi, west of Gisborne. I was asked to help paint the kowhaiwhai patterns of the new wharenui Te Poho o Hiraina. That was what really brought me back to the arts – particularly Māori art.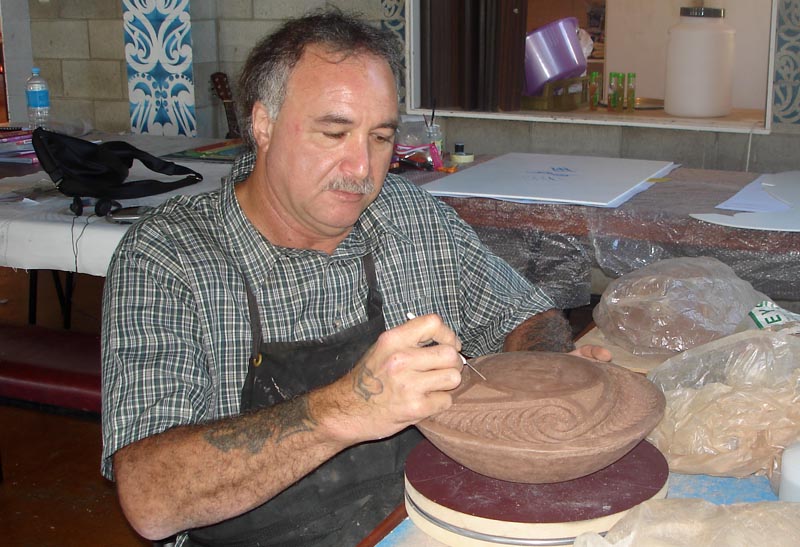 Over the next 12 years, I continued to work as much as my time would allow – completing the many painted pieces: mea ngā poupou, ngā heke ngā heke tipi, tahuhu, ngā kaho paetara, ngā maihi and ngā whakairo/carvings.
They were tasks comparable to fitting together pieces of a jigsaw puzzle. The completion of the tasks was akin to a 60-day wānanga of shared learning with carver Riki Manuel, local builder Peter Tupara and his carpentry crew, me and helpers from the local community.
Together, we worked to install the mahi toi and prepare the marae for the opening by Kingi Tuheitia and the Tainui whānau in November 2009.
In 2002, I returned to study and learning as an adult student. Then from 2004 to 2006, I studied for a Diploma of Visual Arts Māori, majoring in clay, at Toihoukura, Tairawhiti Polytechnic Gisborne (now part of Eastern Institute of Technology).
In 2007, I transitioned to Te Toi O Ngā Rangi (Bachelor of Māori Visual Arts) programme and graduated in 2011.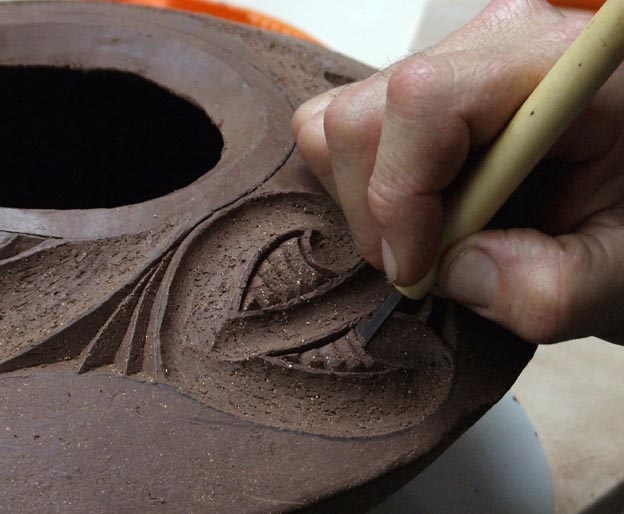 While I was studying at Toihoukura, I had the opportunity to wānanga with leading New Zealand Māori artists. I was also introduced to Kaihanga Uku, the Māori Clay Artists Collective. It's a network that engages with indigenous artists in the Pacific Rim and globally.
I love the haptic senses, the immediacy of uku – sensing moisture, heat, firmness and softness, pliability – and taking that lump of clay and modelling it into an aesthetically beautiful form. There are challenges to overcome working with this malleable material. The chemistry of fire and glaze can have unexpected – sometimes spectacular – results during the firing process.
For me, art is a medium of personal expression where artists share with others what is important to them.
My art is a visual and tangible concept of mauri Māori albeit shaped in clay, painted kowhaiwhai or sculptural form. It reflects my birthright as a Māori to use Māori artforms to express my journey and Māori world view.
Inspiration comes from Māori storytelling through moteatea.
2. What I've achieved with my art
I consider my work at Te Poho o Hiraina Wharenui at Pakowhai Marae, Waituhi, Turanganui a Kiwa/Gisborne as my biggest and crowning artistic achievement.
Other achievements include:
Diploma in Visual Arts and Design Māori, 2007
Recipient, Ruanuku Museum Acquisition Award 2007
Graduated Te Toi O Ngā Rangi Bachelor of Māori Visual Arts, Toihoukura, 2011
Recipient of the Art Access Artistic Achievement Award 2016
Member of the Kaihanga Uku Māori Clay Artist Collective.
3. What I want to achieve with my art
I want to continue achieving personal satisfaction in my art; developing my processes to refine my art; be productive and innovative; and express my ethnicity through my art.
I am grateful to be part of Kaihanga Uku where I met important mentors in my life such as Baye Riddell and Wi Taepa, and the late Manos Nathan and Colleen Waata-Urlich. These wānanga are an incredible, powerful and rich experience as an artist, taking me deeper into my roots.
4. Who I'm interested in working with on art projects
The first name that comes to mind is Baye Riddell. He has been an inspiration for me since I met him. Also locally, Peggy Ericson and Seymore May.
The Kaihanga Uku wānanga provides a platform to work with other artists. They reinforce networks and promote uku art through demonstration, construction and exhibiting.
I like working with others, I appreciate shared learning experiences. When you work with artists in the Māori wānanga style, you share techniques, experiences and wisdom, which is invaluable.
Sometimes, you are the sharer of knowledge with other artists, or students. Other times, you are the receiver of knowledge.
Your heart and soul is replenished with inspiration and joy in your art.
5. Useful links
6. Contact details
David Cameron
T: 06 862 7803
E: camerondvd@xtra.co.nz
Story updated: July 2017