Blog
Arts Access Advocates
Not to brag but recently I went backstage at the Fatboy Slim concert and met him. Well, okay, I'm bragging. However I also have a point.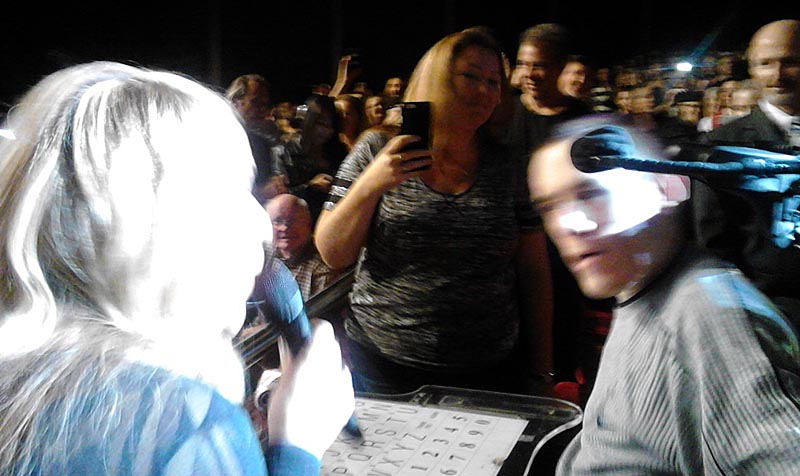 I have blogged before that I don't like segregated seating. I like being part of the crowd. However, going backstage and dancing in an area beyond the barriers as I did at Limp Bisket does not achieve this.
I didn't consider this at Fatboy Slim. All I was thinking when I was asked if I wanted to go backstage was maybe I could meet him. And I did!
As I was about to head backstage, I did hear someone telling me that I should stay. I figured that going beyond the barriers worked out at Limp Bisket and I would be better off. Honestly, there was also a really annoying person in the crowd who continually wanted to hold my hand; it was great to get away from that person.
"I am myself"
Another woman said to me that her nephew had cerebral palsy and he was 23. She said that she wanted him to have similar experiences but I did a disappearing act. On the other hand, I had a better time and I wish that I could have told her that.
Also, I am not a role model. I am myself.
Some people with disabilities feel the need to do things to influence others. There is nothing wrong with that but I would rather just live my life.
Influencing through blogs
I have enough problems without adding additional pressure. I like influencing through blogs. It is okay not to be an advocate 24/7.
I do believe in being part of the crowd but if can get a better experience by not then I will also take that every time. I don't want special treatment but if it's offered I'm not going to refuse.
Part of the problem that I have with segregated seating is that sometimes they stick us so far away from the stage. This problem is resolved if we are very close to the stage.
So in conclusion I don't mind not being part of the crowd as long as I get a better experience.