Blog
Arts Access Advocates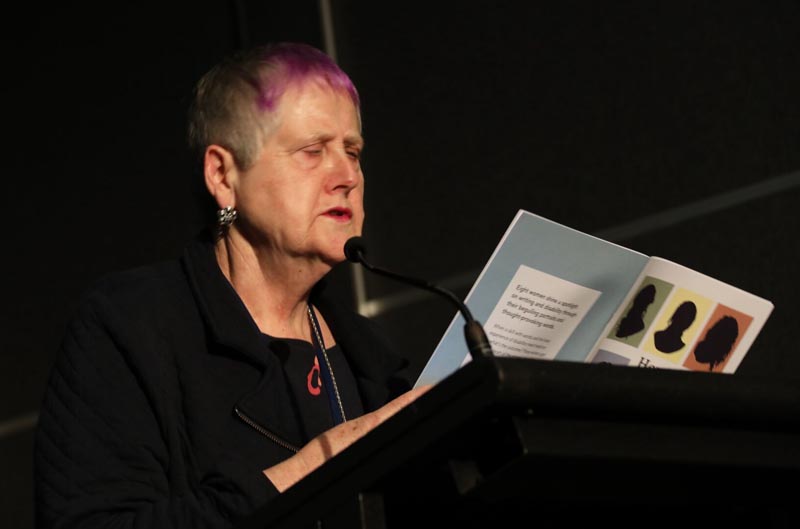 Being a visitor at a disability arts conference in another country has both advantages and disadvantages. Advantages: everything is new and interesting; new projects, people, approaches and networking opportunities. One disadvantage: you don't necessarily know enough to make the most useful choices of parallel sessions.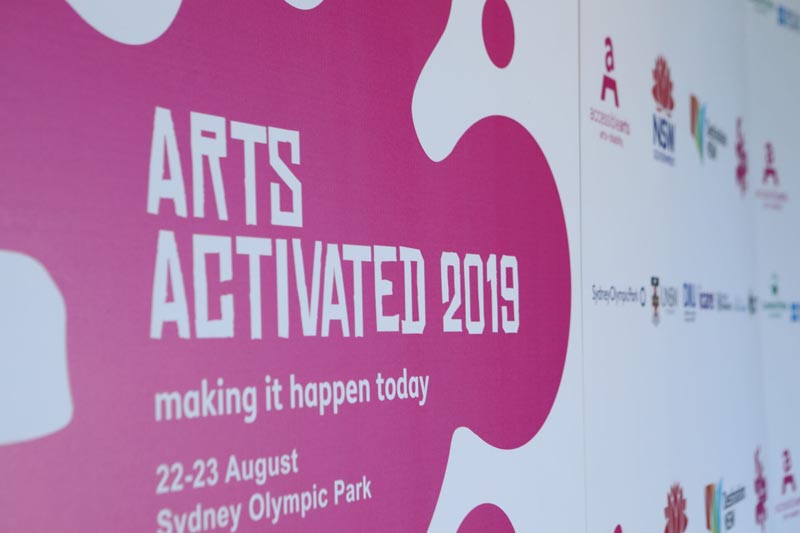 But I felt at home in a disability arts community. The Arts Activated 2019 Conference was run by Accessible Arts and held at the Sydney Olympic Village. I was one of the 75 speakers and presenters, seventy per cent of whom had lived experience of disability.
It attracted artists, arts workers, disability advocates, researchers, policymakers and other experts from across the arts, cultural and disability communities within New South Wales, and from other states and overseas.
Presentations could be accessed in eight different content formats: open/closed captioning, Auslan interpreting, audio description, hearing loops, braille, large print and screen-readable digital.
I didn't avail myself of the app with conference info. However, it enabled questions to be asked during sessions, access to live captioning and the ability to evaluate each session. Sessions were also broadcast on Facebook live.
Conference theme
The theme of the conference was Making it happen today, with a focus on "meaningful action we can take to empower and connect artists with disability with opportunity, development and career sustainability, and also to foster a creative, vibrant and inclusive arts community in which everyone can participate and thrive".
There was emphasis on arts practice, professional development, performing arts and the fine arts. Writing and writers were less obvious, although I did meet one or two. Lively discussion centred on arts opportunities, practice, professional development and arts leadership by disabled people more than on access for audiences.
My panel presentation
I was a panelist on Creation Stories: Shaping the Narrative on Arts and Disability. Artists with disability explore their work and new ways of articulating the aesthetic value of arts and disability.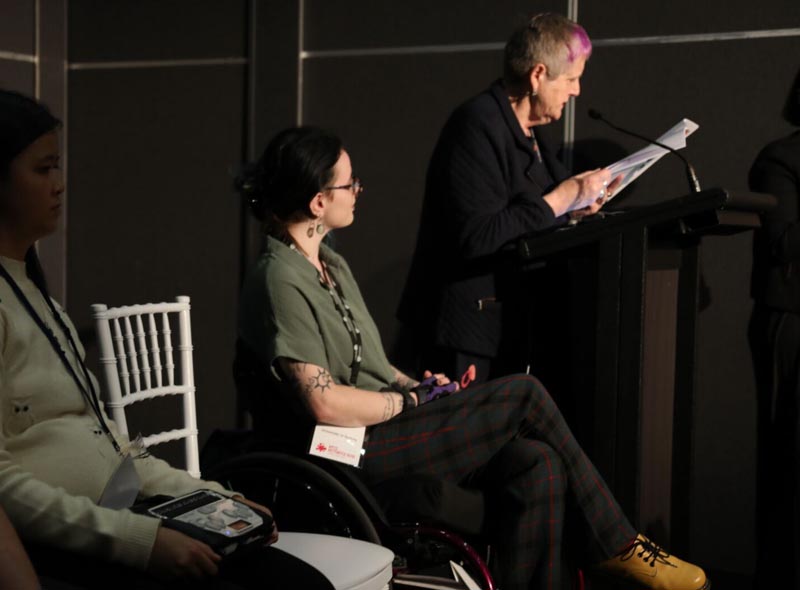 It was a meaty topic. I chose to explore the disability and aesthetic values that informed the development of Crip the Lit's multi-format pocket book, Here we are, read us. Women Disability and Writing. Others explored writing practice, theatre and music.
You can follow most of the presentations in transcript, audio and video here. I recommend a visit, especially for the keynotes.
It was valuable to have a disabled-people-only space over lunchtime on day one where there was unreported, frank and open discussion.
Keynote speakers
The keynotes were well-chosen. Rachel Gadsden, a leading British visual artist, performance artist and director who has created a wide variety of visual arts projects and collaborations said: "My work deals with three simple things – fragility, survival and hope."
She brought a sense of urgency to discussion of her collaborative work. "Don't wait, nobody waits, you have to make it now, today." She urged people to collaborate. "Go make it happen."
I was particularly pleased to hear from Beth Ziebarth, the Director of Accessibility at The Smithsonian. The free, downloadable Smithsonian Guidelines for Accessible Exhibition Design should be the "go to" guide for the GLAM community here.
She described the cycle of planning for accessibility as a series of bubbles – the first one being "organisational commitment", then "community engagement", leading to "assessment and evaluation", "policy, procedure and practice, staff training, communicating with audience, visitors and community" and "going back to evaluate and update".
Emerging themes

Gayle Kennedy is a respected indigenous Australian writer. Her strong assertion that disabled artists should not have to work for free was well-received, as was her assertion that she wanted to do what she wanted to, and "live like a white man".
Speakers emphasised that disabled people should be able to work in all fields of the arts, including administration at all levels as well as being practitioners.
Others talked about our rights as disabled artists, performers and writers; and the problems around training and professional development. They emphasised the need for training and bridging courses to enable participation and growth of disabled practitioners.
Some of the comments:
"We need to change the language of inclusion – to have ordinary and extraordinary lives."
"We don't want the crumbs from the table, we want to be at the centre of things."
"Disabled people need to be embedded where they can make change, both at the grassroots and at the top."
Some disabled people still felt they were not being allowed into the arts community or were being pushed out. "We want a change in the language. We want change from the top with action not words. We can create the world we want."
There seems to be a stronger, more connected and diverse community of disabled arts practice, in NSW at least, than in New Zealand. (I hope that will change.) However, most people thought there was much more to be done for disabled creatives to have an equal place with their non-disabled peers. I suspect that a similar gathering here would identify the same issues.
Write-ability in Melbourne
Following the conference I visited Write-ability in Melbourne. Write-ability is part of Writers Victoria. It supports Deaf and disabled people who want to write. They support anyone who identifies as disabled, and take a wide and inclusive approach to those who experience barriers because of an impairment or condition.
Through Write-ability, disabled writers can develop writing skills, make links to the local and wider writing community and learn about the publishing industry. Events are free for disabled people and their support people. Disabled people lead much of Write-ability's work.
The Write-ability goes regional and online programme supports disabled writers living in the regions. It starts with a forum, and continues with a series of free, mentor-led writing groups and includes publishing opportunities and a Literary Salon.
Events and opportunities include workshops, writing groups, online webinars, commissions and fellowships. Such a programme could contribute enormously to a community of disability writers here.
Robyn Hunt is the Arts Access Accolade 2019 and co-founder of the accessibility company AccEase. Read more about Robyn.