Blog
Arts Access Advocates
We all know how it feels to be a happy customer, and when we feel let down. As an Advocate with the Nationwide Health and Disability Advocacy Service, I am here to let you know that if you or someone you know is unhappy in any way with a disability or health service you have, or are receiving, help is at hand.
In New Zealand, there is a marvellous thing called the Code of Health and Disability Services Consumers' Rights – "the Code" for short. This sets out how health and disability services should support and interact with you, the consumer. Under the Code you have rights and providers have duties.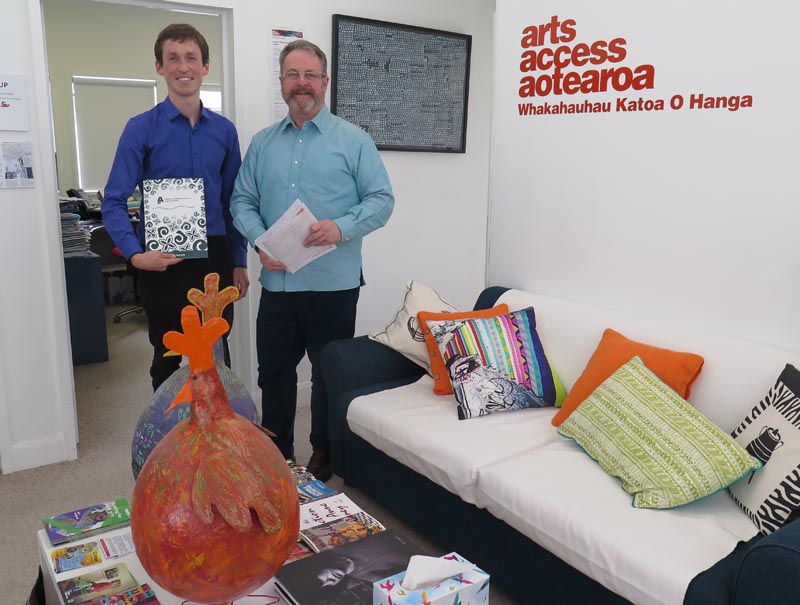 Among other things, the Code states that service providers must treat consumers with respect; treat them fairly without discrimination or pressure; and support them to live independently and with dignity.
You also need to be given enough information about your care so that you can make an informed choice about how you would like to do things. You can ask questions and tell someone if you don't feel comfortable with something.
Most of the time you will be satisfied with how you have been treated but when you're not, you have the right to complain. Sometimes people find it hard to complain when things haven't gone as they expected: that's the time to contact an advocate from the free Nationwide Health and Disability Advocacy Service.
Free support or guidance
An advocate will provide you with information about the Code and will provide free support or guidance with resolving your concerns. Advocates working in this service are independent of health and disability service providers, the Ministry of Health, and the Health and Disability Commissioner.
Most people know what a health service is. However, they may not realise that disability services cover a range of services for people with disabilities, including their care or support, promotion of their independence, and goods, services and facilities.
Examples of the types of complaints advocates have supported or guided consumers to resolve can be found on the advocacy section of the HDC website under "Case studies".
Concerns acknowledged
One example is a consumer who made contact with an advocate because he was upset about the way a caregiver was treating and speaking to him. The advocate supported him at a meeting with the caregiver where he expressed his concerns and had them acknowledged. Both caregiver and consumer agreed they could move on together as a result of their talk.
Complaints help providers to identify any shortfalls in the service they provide. Most welcome feedback as it helps them to identify and address the things that make consumers unhappy.
If you have concerns about the health or disability service you are receiving you can contact one of our team by calling 0800 555 050. An advocate will talk with you about your rights, and what can be done to resolve your concerns.
Conor Clerkin is an Advocate (Wellington-Wairarapa Regions), Nationwide Health & Disability Advocacy (T: 04 389 2502 | 0800 555 050 E: Conor.Clerkin@advocacy.org.nz)