Blog
Arts Access Advocates
This blog is based on a presentation I made with Arts Access Aotearoa at the National Digital Forum Conference in Wellington in November 2016. Sometimes I feel like the Grinch who destroyed Christmas. My presentation at the Digital Forum Conference followed a sparkling and very visual presentation by Emily Loughman from Click Suite. I cooled down the general enthusiasm when I mentioned my vision impairment and suggested that the digital all-singing and all-dancing euphoria might have to be tempered with some access considerations.
On the surface, this might seem limiting but actually, it's really about exploring and introducing more digital creative possibilities.
For the presentation, I was missing Arts Access Aotearoa's Executive Director, Richard Benge, my co-presenter, who was ill and unable to attend. Happily, I was assisted with the technology by Andy Neale from the National Library.
The digital divide
The digital divide means that some groups of New Zealanders have limited or no access to digital technologies, or do not have the confidence to use them. They include:
Disabled adults and children
Pasifika peoples
Māori
senior citizens
people from low socio-economic backgrounds
people living in regions or communities with low internet uptake rates.
Nearly one-quarter of our population (24 per cent) is disabled. People over 65 years are currently make up more than 14% of New Zealanders and numbers are growing. Disabilities increase with age and just over half of all disabled people have more than one impairment.
Disabled people encounter barriers when accessing digital elements in the GLAM (galleries, libraries, archives and museums) space. This blog explores just a few of the opportunities for change, with some examples.
What needs to change to include everyone? What help is available? How could different decisions be made about whose history and culture is preserved? These are all important questions the GLAM community needs to consider.
If you want to engage with older and disabled people, you won't be able to reach all of this group through service providers or disabled people's organisations, or even Arts Access Aotearoa. Arts organisations must accept that they will have to grow new disabled audiences and also retain those who acquire impairments during life and into older age.
Here's an interesting opinion piece, written by Professor Miriam Lips, Chair in e-Government at Victoria University of Wellington. It's called The digital divide in New Zealand.
Barriers to access
Digital barriers are common. With complex websites, applications and installations, many people have difficulty accessing digital content. Access difficulties are diverse and include seeing, hearing, dexterity, understanding and learning, concentration, and physical access to digital displays and installations.
Many disabled people use assistive technology, which may be compatible with digital content if careful consideration has been given from the outset. Other users may have no idea that digital accessibility can be built in for them and so they don't demand it while some don't know how –­ ­or who – to ask for it. The result? They feel excluded.
Digital solutions to digital access
It is important to use a variety of ways to present digital content. The following are some tips about building accessible websites and apps:
Standards and advice on accessibility are readily available. There's an accessibility community online and New Zealand's government standards are applicable beyond core government.
Include accessibility from the start of the project, from planning and the design brief onwards.
Accessibility should include a variety of user testing.
Photographs and illustrations online need alternative text to show their meaning and significance.
Consider keyboard-only users by correct heading structures so people can tab through headings.
Always use plain language.
Think about accompanying text, size and weight.
Good colour contrast in all areas is important.
Here are just a few examples of digital accessibility.
1. Accessible technologies
Incorporate accessible technology such as iPads, iBeacons and accessible smart phone apps. Consider using podcasts as well as visual material. Petone Settlers Museum uses iBeacons to help blind people access displays and can lend smart phones to those who don't have them. Unfortunately, there's no information about this service on its website.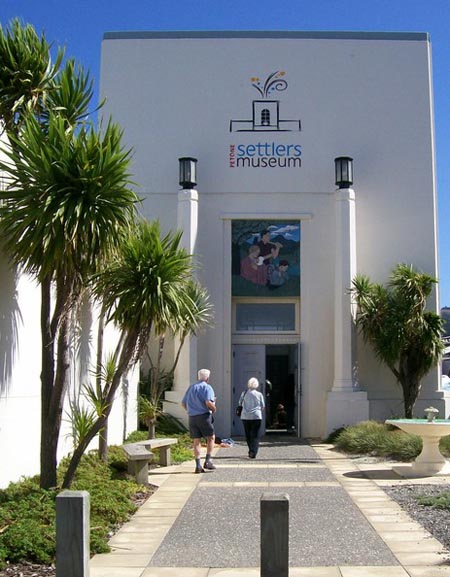 Wayfinding software available in Wellington uses smart phone technology to help blind, vision impaired and print-disabled people find their way around and within Wellington shops and businesses. As app users pass by shops and businesses that are "Blind Square enabled", the app will provide a spoken description of the business, including its name, what goods or services it provides, and the shop layout. Such technology would be useful in the GLAM sector. Read more about BlindSquare.
2. Same information, different forms
Include different ways of providing the same information such as captions, audio description and transcripts. There are trained audio describers in Wellington, Auckland, Christchurch and Dunedin, and the skill is spreading to other areas.
Captioning can be done automatically on YouTube but don't rely on it as it can have some surprising, unintended results and needs careful checking.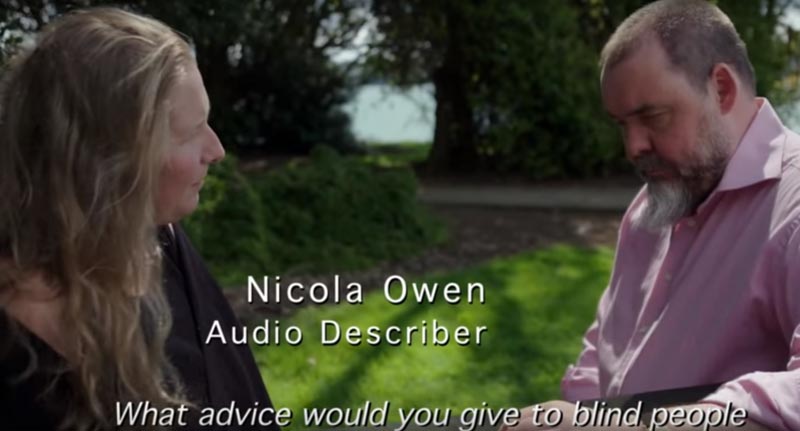 Audio description and captioning can co-exist happily on one video. Arts Access Aotearoa has two excellent examples of the two together and are worth a watch: Connecting Through Music and Access For All.
Use New Zealand Sign Language. In 2014, I worked on accessibility and inclusion with the curators of the Tirohia Mai exhibition at the National Library of New Zealand. The library decided to include all of New Zealand's official languages in its introduction to the exhibition signage, and has done so since for all its exhibitions. It is still a rare example of all our official languages together in one place.
With the advent of 3D printing, the presentation of digitally created replicas of objects and even artworks and painting is increasingly possible. Te Papa has successfully experimented with this technique to produce a copy of a fragile artefact.
A project in the United States, 3DPhotoWorks Brings Great Art To The Blind, aims to bring the "world's greatest art" to blind gallery patrons by converting famous paintings into digitally sculpted objects that blind people can touch and experience.
Easy Read, not the same as plain language, is another option. It's particularly useful for people with learning difficulties but has wider applications: for example, new migrants who don't have English as their first language. Use of Easy Read should not be limited to the education and youth spaces.
3. Universal design
Universal design should be the vision driving accessibility. Disabled people don't want to be "special" and have "extra add-ons" when there's time and resource. Universal design is a way of thinking that includes everyone from the beginning of any project – whether a building, the environment, an exhibition, and, importantly, communication.
4. Inclusion is not only about access
Sign DNA is the Deaf community website documenting Deaf history. It is owned and operated by Deaf people telling their own stories in ways that are accessible to them. This is the ideal but disabled people don't have access to the same resource.
The Road to Recovery: Disabled Soldiers of World War I exhibition saw Te Papa begin to explore our disability history. The issues surrounding the research, preservation and exhibition of disability history raise big questions. Check out some photos from the exhibition.
This Te Papa exhibition was important but had access issues of its own. It was hard to find, being tucked away in a small room, and the print material accompanying it was not accessible. Online material relating to the exhibition wasn't easy to find, and many disabled people I have spoken to would have visited it if promotion to our community had been better. Promotion to the disability community remains a problem.
More information and support
Robyn Hunt's communications company AccEase helps ensure websites, information and communications are accessible, and consults on disability inclusion. Both AccEase and Arts Access Aotearoa are active on social media. Joining Arts Access Aotearoa's Arts For All Network will provide a source of encouragement and support. The publication Arts For All provides practical advice.