Blog
Arts Access Advocates
Sitting in my dungeon with the usual suspects, oops, I mean sitting in my office and with the usual office mates on a Saturday afternoon exactly one week after an exciting weekend at the Arts Access Advocates: A National Partnership workshop, my heart longs to go back to the fun times of being with like-minded people (with no disrespect to the usual suspects here), of feeling "belonged" and of not being afraid to try.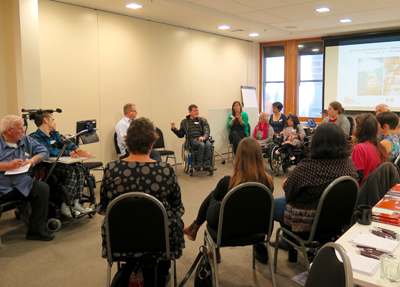 Having been in New Zealand for six years now, I was really touched by the power of art, and music, that instantly brought us all together at the workshop. And six years since I left my old label "musician" behind and put on a new label "researcher," I have often felt myself to be living in liminality.
When I started my field work for my doctoral study, I was lost, really lost, in liminality of being neither a student nor a teacher in my case study. It took me half a year before I realised, and before someone said to me: "You are a researcher." This person is now a very important figure in my life who have created a condition for me to find myself in my label as a "researcher." In much the same way, the workshop has created the condition, and a huge opportunity, for me to be "liminal". After the weekend in Wellington, I came back to Christchurch with not just a new label, but also a new identity: "Liminal."
So what? Now what?
If this is a reflection I am writing after my supervisory meeting, I know what four words my supervisors will email me back with: So what? Now what?
So with my new liminal self, I am not afraid to be seen, to be present, to be visible. Now what? I need to go back to work, and instead of trying to see the forest for the trees, I shall now go wander in the forest of inclusion, and to embody the value I have taken back with my from the workshop – whakawhanaungatanga - building partnerships through conversation, everyday involvement, compassion, giving and vulnerability. Ka pai!