Article
Arts Access Advocates
Wellington writer L.J. Ritchie's new young adult novel will "tackle autism stereotypes head-on" with a plot that involves "autism, architecture, and twin children possibly disappearing into the sea".
L.J. Ritchie says he's been frustrated at the portrayal of autistic characters in books since he was diagnosed with Asperger's syndrome in 2002.
"There's a whole range of things that have come up in my experience of autism that I have never seen in any fiction of any kind," L.J. explains. "So I wanted an opportunity to explore some of those while also telling a fun story."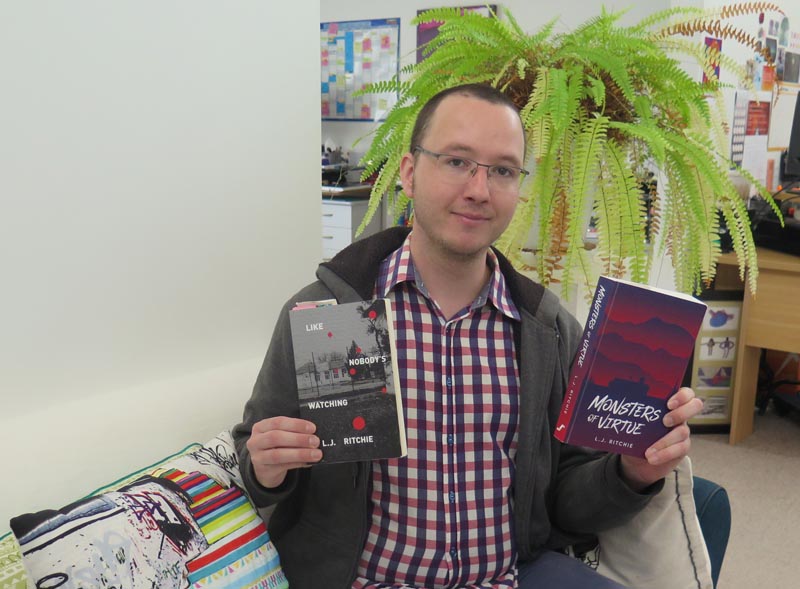 L.J. completed the Whitireia creative writing programme in 2013. In 2016, his first novel was published by Escalator Press. Like Nobody's Watching was a finalist in the New Zealand Book Awards for Children & Young Adults 2017. His second novel, Monsters of Virtue, was described by critic and writer Mandy Hager as a "brilliant exploration of eugenics – scary and thought-provoking".
L.J. says a challenge in the way autism is represented in literature is that writers often create one character who is supposed to represent and sum up the whole condition even though there's a broad spectrum of autistic people who have various personality traits.
"For true representation, you need to depict a range of very different and very specific characters, knowing that none of them will appeal and connect with every reader on the spectrum," he says.
"By having multiple characters at multiple points on the spectrum, you can show that all the characters have certain things in common but they are also very different in a lot of ways."
Around one in 59 people in New Zealand are diagnosed with autism. L.J. says writers are often encouraged to make their writing accessible to the widest possible audience and this can result in "bland" and inaccurate representations of characters with autism.
"Often, there can be a temptation to stereotype yourself to make certain aspects seem more extreme than they are or to sand off the rough edges of other aspects," L.J. says.
"It's finding that balance between being honest but also writing in a way that works within the framework of a novel."
Inspired by his own experience
L.J.'s aspiration to challenge the stereotypes of autistic characters in novels is inspired by his own experience growing up with "literature and discourse around autism that was very depressing".
"I've never encountered an explicitly autistic character whom I have strongly identified with," he says. "I used to see a lot of books where it felt like the writer had read one page of the DSM-5 and had gone, 'Right, now I know autism'. The characters read like the symptoms and had no personality aside from that.
"A couple of young people I know were diagnosed a few years back. That made me think back to the literature available when I was diagnosed almost two decades ago, where the shortcomings were, and how they still exist," L.J. explains.
"That was when I realised I was in a position to do something about it."
How to approach his Asperger's diagnosis
L.J. says he has a "love-hate relationship" with his Asperger's diagnosis. "The immediate result of the diagnosis for me was this huge lack of confidence because I was being told that all these things that hadn't been a problem for me before were actually problems and issues I had to address. It took me a long time to figure out how to approach the diagnosis in a way that was useful for me.
"While I was writing my first two books, sometimes I got feedback where people would say, 'Why is this character doing this?' 'No one acts like this!' Inevitably, those were the parts that were drawn from my own life."
Long periods of planning and research
Writing "requires a bit of detective work" so as not to "trip up the reader" while "staying true to your character and vision". There are also long periods of planning and research.
"One good piece of advice I received on the writing course was that if someone tells you something is wrong, they are probably right. If they tell you how to fix it, they are probably wrong. The trick is to reverse engineer the feedback, go back to the trip-up point for the reader and rewrite parts to show them why a character may act in a certain way.
"For me, the writing process is having your plan and going through the process of rewriting it and swapping out each idea for a more interesting idea.
"There are a lot of people writing books but also a lot who don't finish that first draft. One of the toughest things is to move from the idea to completing the first draft. Perfectionism plays a huge role in that."
In Crip the Lit's contribution to LitCrawl 2019, Across Two Worlds, L.J. Ritchie spoke with Trish Harris about his current project, a novel featuring two autistic characters. Listen to the podcast on Wellington Access Radio