Article
Arts Access Advocates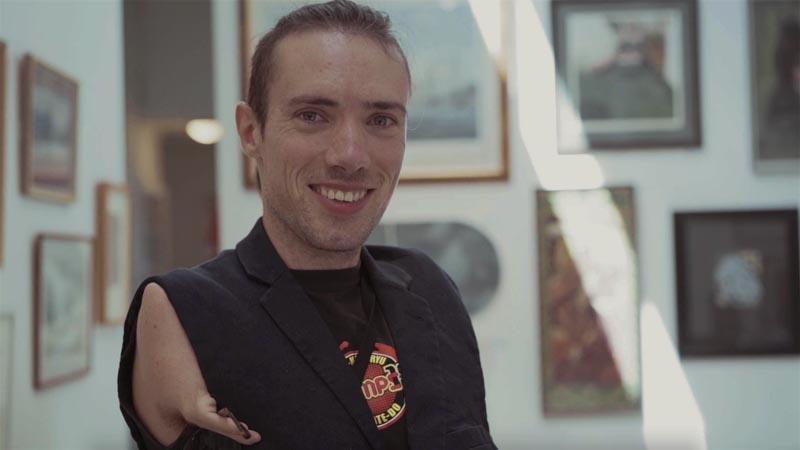 Aucklander Jase Smithyman isn't one to shy away from a challenge. "Nothing can keep me down," says the Depot Artspace's first Disability Advocate.
Described as a double amputee "despite never having anything actually amputated", Jase first went to Depot Artspace in Devonport as part of their ArtsLab programme, which helps people working in the creative arts find jobs.
"I met the team and they offered me a position as the Disability Advocate," he says. "It's a place where change is happening and new ways of thinking are being born every day.
"My role is forever evolving, from ideas of promoting artists with disabilities and working with them to showcase their work to becoming a voice for disabled people, for the ones who don't often have a voice, or whose message is tainted by people who think they know better when in reality, they don't have a clue."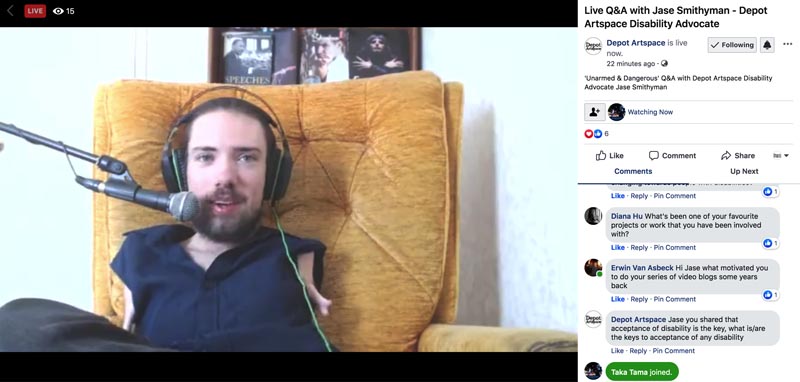 Jase's favourite part of his job is helping people. "I love meeting new people, people I can help or at least attempt to help. I don't pretend to have all the answers but I'm more than happy to give it a crack. I also love the vibe at the Depot. It has such good energy and good people.
"If you're an unemployed creative looking for work, the ArtsLab programme might be for you. If you're an artist, you could talk to the amazing gallery manager about ways you can exhibit or display your work. If you're a musician, you could come and chat to our awesome audio engineer about recording some songs. And if you're needing guidance, you could come and see me, and we'll have a talk."
Helping people feel heard
For Jase, part of helping people is helping them feel heard. "Disabled people are sometimes highly misunderstood. One thing I learned from a very young age was that you need to make yourself heard. To show the world that you too have a voice, are an active member of society, and that your theories should be taken into consideration along with everybody else's.
"I think my role is important as what I'm trying to do is help people with disabilities be heard, feel heard, and feel appreciated in a sometimes very biased and single-minded world."
Jase doesn't see himself as motivational but others have told him that he is. Encouraged by his brother and friends, he started a YouTube channel called Wingless. It now has a dozen videos where it's "just me talking, living and showing the world who I am".
He also has a Wingless Facebook page.
"Look at the person, not the disability"
Jase believes New Zealand employers' attitudes towards disabled people are improving and says they should "look at the person, not the disability". If a candidate meets all the requirements for a job, there's no reason not to hire them.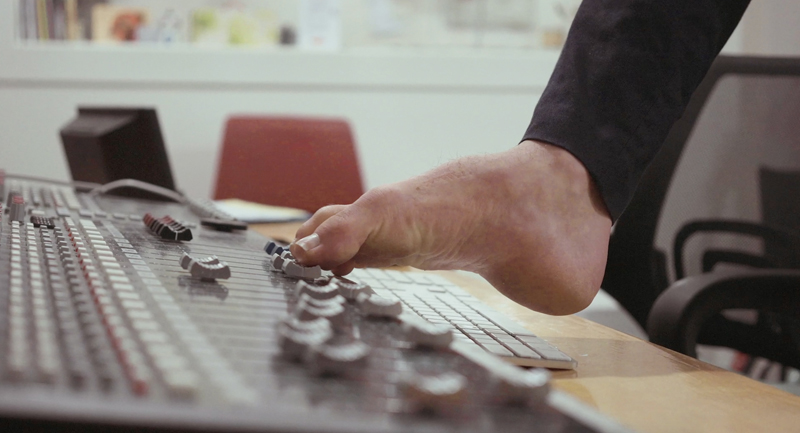 Jase doesn't believe in boxing people in or stereotyping them and says you have to look beyond the surface. It's something he's had to do as both an audio engineer and a songwriter.
"Music is a beautiful thing, and can span continents and beliefs. As an audio engineer, I'm allowed into the songwriter or band's thought processes and deepest emotions. It's my job to capture that and do it justice.
"As a songwriter, I see the world as a blank canvas ready to be painted with sounds."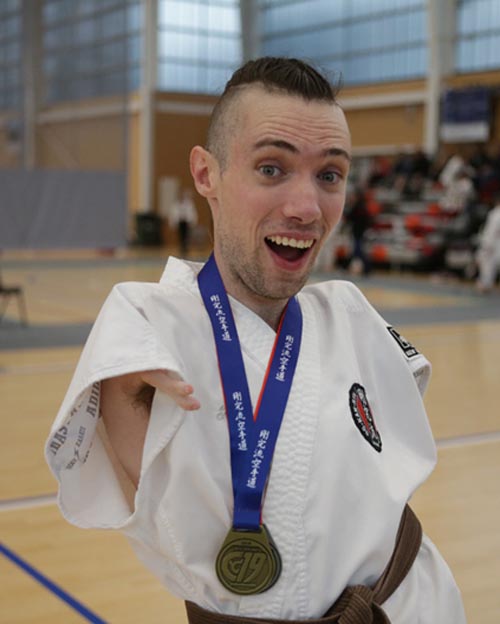 Jase says he's proud to be disabled, adding that everybody has their struggles.
Accepting disability is all about your mindset. "People with disabilities are just people. When you accept disability, the doors open and you can do whatever you want."
He is a firm believer in practising what you preach and in pushing the limits, something he's achieved with his numerous regional and national club karate titles and hard-working dojo etiquette.
He also believes in having an attitude that "I can always do better. If you want to go harder you can always go harder, no matter what anyone tells you."
Jase moves beyond his low moments by just keeping on pushing. He prefers to say, "I haven't yet done this today" instead of "I can't do this today".
He suggests that when you're feeling low, set tiny goals, and they will add up to bigger goals. He also believes in everybody helping each other out. "Community is a very powerful thing."
The Depot Artspace in Devonport, Auckland is a creative, open and inclusive cultural community. It offers a variety of facilities, services and events that support and encourage creativity by providing opportunities for participation and appreciation. It provides a professional development programme, publications, a recording studio, galleries and more. Visit the Depot Artspace website.